Want to Learn Responsive Web Design Basics? Bootstrap 4 Quick Start Book
Download Free Digital Version | .zip
Buy Paperback Book on Amazon
Are you a Web Development Beginner?
The Bootstrap 4 Quick Start Book and resources are for beginner web developers and web designers who are looking for a quick way to go beyond basic HTML & CSS and learn responsive web design and development.
Who is this for?
You have never built a website before.
You know some HTML & CSS but are new to responsive web design basics.
You are a backend developer or programmer and want to improve frontend skills.
In one weekend you will have a solid starting point to begin building your mobile first projects with Bootstrap 4.
Learn how to create your first responsive web layout... Step by Step
Responsive Marketing Homepage Tutorial
Topics covered: responsive images, image cards, parallax background images, Google fonts, carousel cross-fade, and vertical centered text.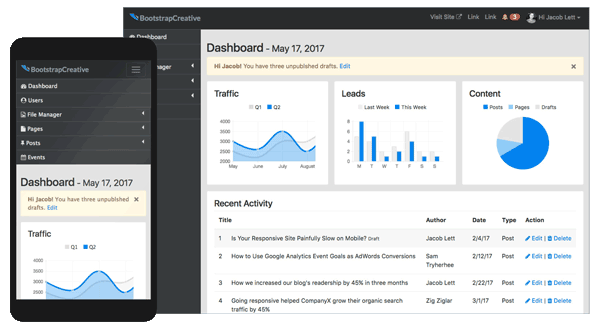 Responsive Admin Dashboard Tutorial
Topics covered: 100% height sidebar, card deck, FontAwesome icons, responsive charts and tables using Chart.js, and custom navigation tree menu.
Description
This Bootstrap 4 book and toolkit will teach you how to quickly prototype and build responsive websites and web applications using Bootstrap 4. You will become familiar with the new cards component, setting up the new flexbox grid layout, how to customize the look and feel, and follow the mobile-first development workflow.
You will also learn the history behind responsive design and the reasons why you should use Bootstrap in your projects vs writing CSS styles from scratch.
"Learning HTML and CSS is a lot more challenging than it used to be. Responsive web design adds more layers of complexity to design and develop websites." - Jacob Lett

---
What will I learn?
Learn how Bootstrap 4 makes responsive web design easier to implement.
Learn the design process and mobile-first workflow necessary to make a responsive website with Bootstrap 4.
Learn important responsive design tips and techniques not covered in the official documentation.
Learn frontend web development best practices and get a toolkit to help you save time building and testing responsive layouts. (only available in the Complete Package)
Improve the design of your web applications and sites using the Adobe Photoshop templates and responsive sketch sheets. (only available in the Complete Package)
Who is this for?
You have never built a website before.
You know some HTML & CSS but are new to responsive web design basics.
You are a backend developer or programmer and want to improve frontend skills.
What do I need?
Some experience with HTML and CSS is helpful but not necessary.
This training course does NOT require knowing Sass, command line, or Photoshop.
A text editor like Atom or Visual Studio Code, internet connection, and Google Chrome installed.
The Problem This Helps You Solve
Learning from the official Bootstrap 4 documentation can be confusing for beginners. You might be asking yourself these questions: "How do I get started quickly?, "How do I make my website look unique and less like Bootstrap's default design?, "How do I test and override default Bootstrap CSS styles?", OR "How do I remember all of class names?"
This training provides supplemental information to help you bridge the gap and quickly learn how to start using Bootstrap 4 in your projects.
Bootstrap 4 Toolkit Videos, Templates, Cheat Sheets, and Quick Reference Guides.
---
"This course helped me see another perspective with Bootstrap. Your material provided a systematic, easy approach to new technologies. Cory C. Bowles, frontend developer beginner
"The book uses metaphor's throughout which helps make technical concepts clear and easier to understand. Max, Web Developer
"The training documents were great. They got me started quickly and I was able to jump into installing Bootstrap 4 and getting my website framework started. Andrew Diaz, Web Developer
"It is clear and well structured. A good start for Bootstrap 4 beginners. Uwe, webworker
"A helpful primer in developing responsive layouts with Bootstrap 4. Dan Joseph, Software Engineer
About the Author
---
The biggest struggle I faced learning Bootstrap was understanding the terminology used in the documentation. As a beginner, a lot of the explanations didn't make much sense. I craved more visual examples and simple explanations. Something like a Bootstrap for dummies or a paint by numbers guide to building responsive layouts using Bootstrap 4.
I created this responsive web design step by step tuorial PDF for two reasons: to help make it easier for you to learn the framework, and to help further your career as a web developer.
Let's build a responsive web together!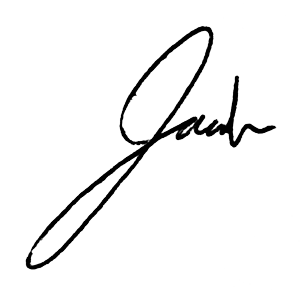 - Jacob Lett, your frontend mentor
P.S. If you ever have any questions, you can always email or call/text me directly at (586) 894-8024.
Common Questions FAQ
---
Learning from the official documentation was very confusing. I also had a lot of unanswered questions like how to properly use the picture element for responsive images, what is the best workflow to follow the mobile-first principle, and is Bootstrap even necessary?
I have also had the desire to help people through teaching but never in a book form. So I decided to give it a try. :)
I do not duplicate the official documentation but try and fill in the knowledge gaps for beginners. After learning the classes you will probably ask the question, "Now what?" My training answers that question and guides you to other areas to make your education more comprehensive.
Always updated to the latest version. When you purchase the book new minor release updates will be emailed to you. For major releases, you will get special pricing and the ability to review early drafts.
Build real-world examples (dashboard and website homepage) you can use in your own projects
The Bootstrap tutorial pdf makes the information portable and easy to search to find what you are looking for.
You can ask questions and share ideas with other Bootstrap web designers in the closed Facebook Group
The Boomerang Guarantee:
If you are unsatisfied for any reason I will refund your account quicker than a boomerang. No questions asked.
Have another question?
Email me
 and I will answer you as soon as I can. Thank you.
Are you ready to learn Bootstrap 4 and responsive design basics?
---