Do you have a design but no developer? Or do you have a developer but no design? Or both?
I have a strong website design and development background, I am able to code pixel perfect templates optimized for SEO.
---
I have been a web designer / developer for the past 15+ years. I am still learning and enjoy helping others learn as well. I earned a bachelors in graphic design around the time CSS and web standards were just starting to take hold. My primary focus was print design but gradually began doing more web projects.
The company I work for uses HubSpot and I frequently create HubSpot landing page, email, and module templates. So I became a Michigan HubSpot partner creating HubSpot CMS templates as a way to earn some side income and to help HubSpot marketers use the platform. I provide HubSpot design and development services as a consultant or an agency freelancer.
Please email me if you have a question regarding the HubSpot Design Tools editor or if you need help creating a custom template for your business. I am here to help!
Download HubSpot CMS Portfolio (pdf)
Thank you,
Jacob Lett
HubSpot CMS Certified Developer & Web Designer
(586) 258-8627
Located in Metro Detroit, Michigan U.S.A.
View LinkedIn Profile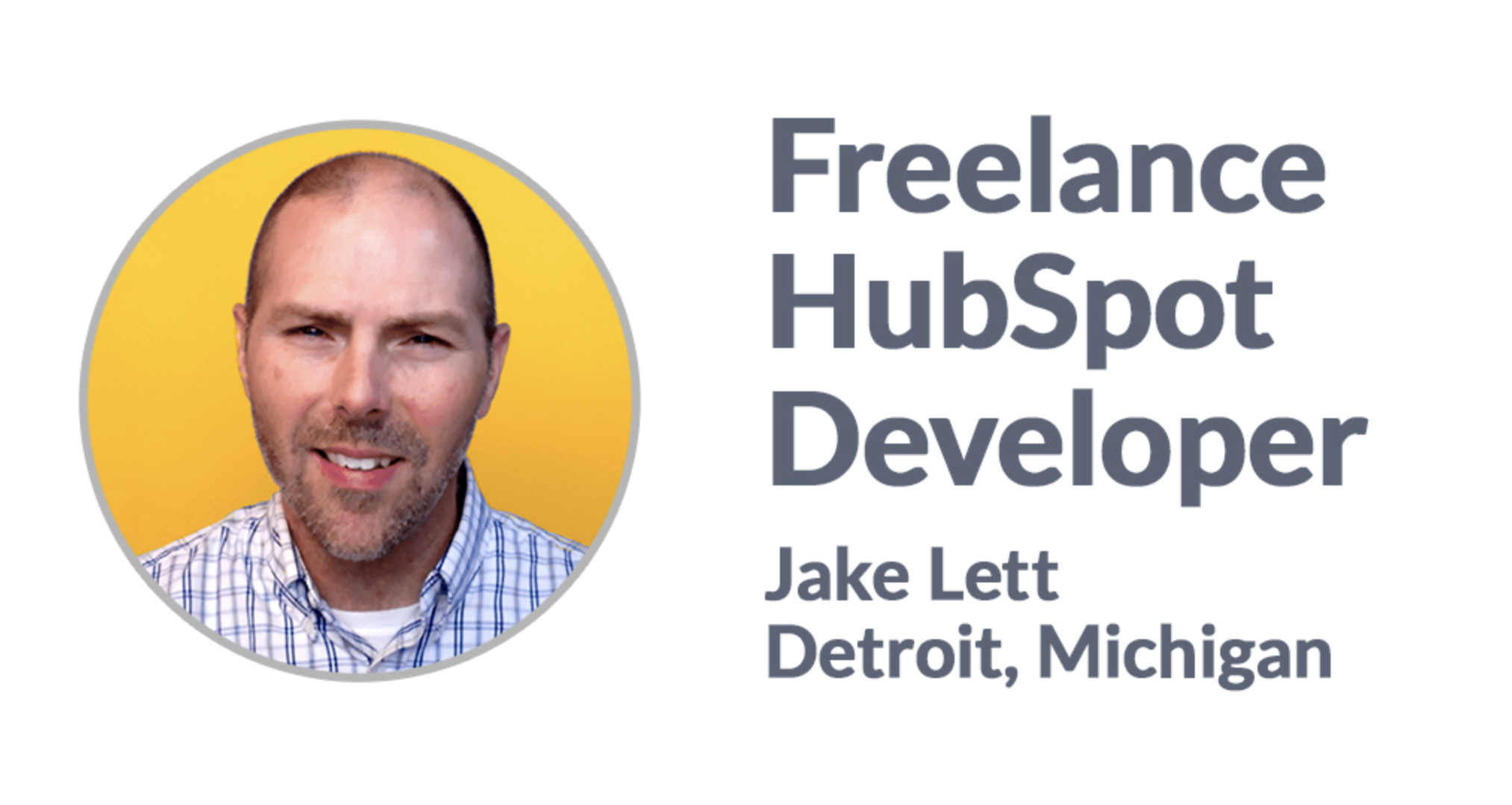 Ways I can help you
---
Custom HubSpot CMS Templates & Modules

HubSpot custom email template design & development service: email newsletters, events, blog rss emails

HubSpot custom landing page template design & development

HubSpot website templates and themes development

HubSpot custom module template design & development

Help with HubSpot Web Design

PSD to HubSpot conversion

HubSpot migrations: Mailchimp to HubSpot, Wordpress to HubSpot, HubSpot blog to WordPress, etc.

Design and CSS style support to answer questions

Converting finished designs (PSD, Sketch) into HubL HubSpot templates

Existing HubSpot Template edits or branding updates

Inbound marketing and content marketing graphic design services

Analytics and AdWords conversion tracking/remarketing setup and reporting
HubSpot Developer Hourly Rate
---
Typically you will find HubSpot full service agencies charging $200+/hr or with long-term monthly retainers. My hourly rate is less than an agency but more than a junior or offshore developer.
For smaller projects
I provide prepaid hourly packages: 5 hour pack $600 USD, 10 hour pack $1200 USD
For larger projects
I can provide you a flat project fee and proposal. I require half payment up front and remaining payment when the work is complete.
Cost structure comparison
$ junior developer or offshore
$$ Jacob Lett - a good value because I am a graphic designer who can code
$$$+ Inbound Marketing Agency
Hire a Freelance HubSpot Developer Grand Rapids, Michigan
BootstrapCreative is a Metro Detroit web design & development company which partners with businesses to improve their digital experiences. We specialize in the following technologies: WordPress, HubSpot, and Bootstrap web applications
(586) 894-8024